Lake of the Woods Fishing Guide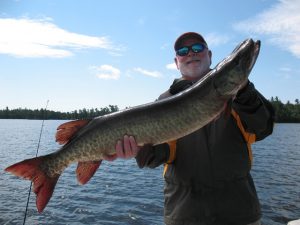 Lake of the Woods Minnesota is one of the largest freshwater lakes in the world. Lake of the Woods Minnesota has over 1,000,000 acres of prime fishing. The awe-inspiring international waters provide some of the best musky fishing and walleye fishing in the world. This is the spot fishermen come for their next record breaking catch. Musky Adventures is a Lake of the Woods fishing guide service that will put you almost on top of the fish! We are a Lake of the Woods Minnesota fishing guide.
Our operations are based from the Northwest Angle, which offers excellent access to both Minnesota and Canadian waters, all 65,000 miles of shoreline. The waters near the Northwest Angle of Lake of the Woods give you access to a variety and large volume of fishing. This is where the musky fishing and walleye fishing is at its best. Our professional guides that will use their fishing knowledge to help put you right in the middle of all the action.

Book Your Musky Fishing Adventure
From June through October, Musky Adventures offers you an excellent guided fishing experience on Lake of the Woods where we do everything we can to put you as close as possible to trophy muskellunge. Book your Guided Musky Fishing Adventure and enjoy some of the best fishing ever!
Lake of the Woods Musky Fishing Guide Service
If you are traveling to Lake of the Woods, Minnesota for some outdoor time, then make sure you don't miss a muskie fishing adventure you won't soon forget! We will guide you to the fish!